Hello Troop 147,
I am thrilled to announce that Troop 147 has two new Eagle scouts! Last night, Max Britton and William Walker both completed their Eagle Board of Reviews with flying colors. Each of their boards had wonderful remarks about both Max and William. Congratulations!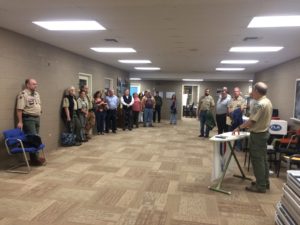 Last night's Eagle Board of Review included 7 Eagle candidates, two from Troop 6, two from 15, one from Troop 20, and two from Troop 147. We also had the pleasure of meeting Eagle Scout Bruce Guyton who received his Eagle Rank with Troop 147 in the 1970s under Scoutmaster Charlie Abner. Support for our Troop 147 Eagle candidates was provided by Mike Britton, Alice Britton, Grandfather Britton, Chris Walker, Natalie Walker, Eduardo Padron, Kimberly Turnmire, Jeffery Turnmire, Rachel Witt, and Doug McCaughan with Sonny Schow, Sally Padron, Cathy McCaughan, and Noah Caldwell on standby should we have needed more attendees.
Please join me in congratulating these young men on their completion of their path to Eagle rank and their new beginnings on their journey as Eagle Scouts.
Doug McCaughan
Troop 147 Scoutmaster
https://bsatroop147.org/
+1-865-898-7189
Skype:djuggler